Homes in Harmony
Tucson/Southern Arizona Edition, October 2002 – Darlene Kryza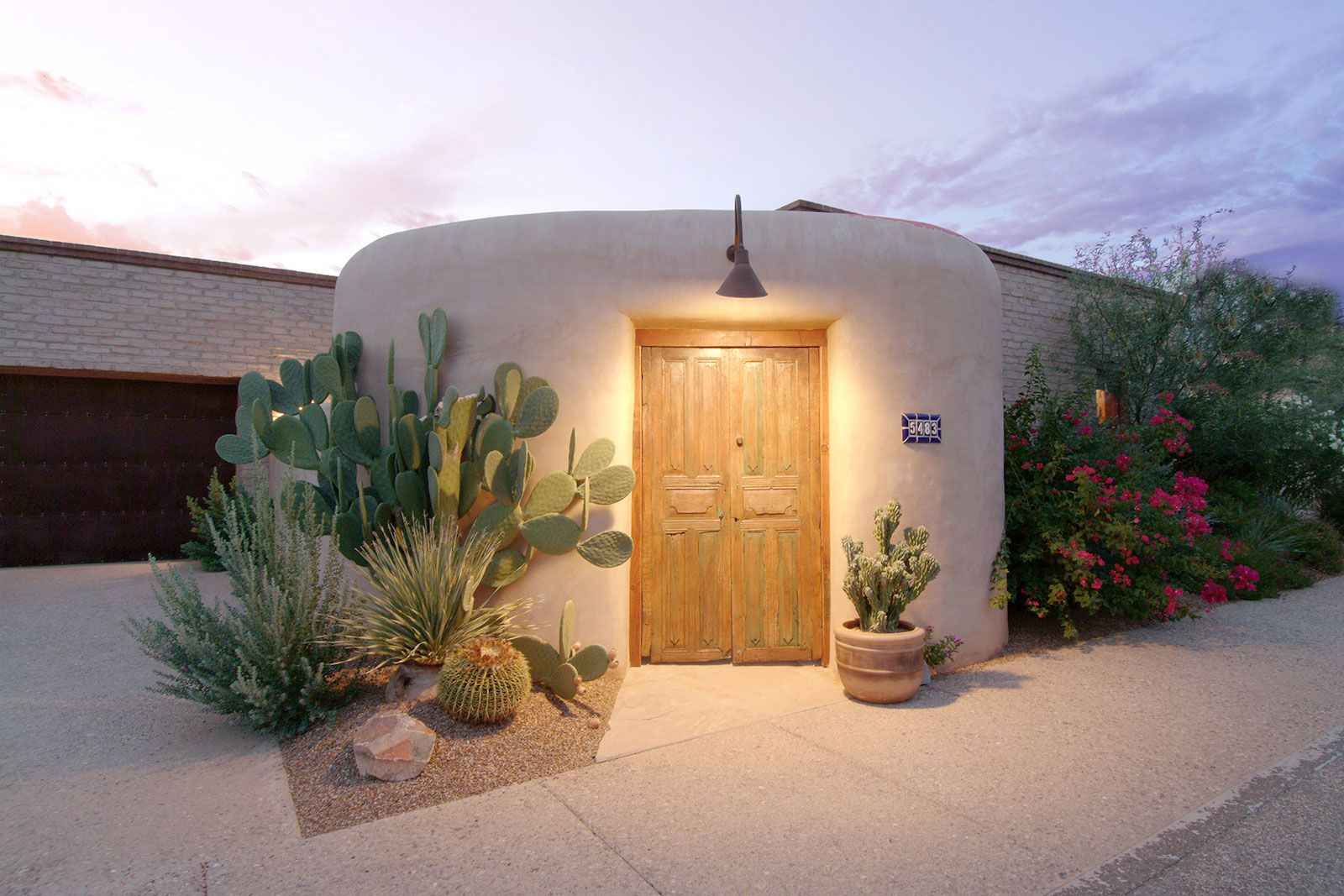 Adobes del Bosque builds custom homes that allow the land to flourish. Nature versus Nurture. A still-debated theory about the survival of the species. James Gray has found his way back to his beginnings through both nature-his love of the land he explored as a young man breaking colts, and nurture-being graced with an upbringing in the bucolic Sierra Nevada Mountains, where he worked as a trail guide during summer vacations.
He was swept away from this beauty to accept a scholarship to San Diego State University, where he studied business administration. After graduation he was admitted into law school, which he passed up for his yearnings to see the world and experience other cultures. After returning from his travels in 1970, his mentor and current business partner John H. Deeter approached James about becoming involved in the home building and land development industry. The prospect appealed to James because of its connectivity to the earth-a way to create something tangible. Thus, this young man began his career as Superintendent of Construction for Deeter Construction, where he was quickly awarded more responsibility in the roles of general project manager and sales manager of three regions.
In 1978, James received his general contractor's license and ventured out on his own with the encouragement of Mr. Deeter. J.L. Gray Companies was born and continued successfully through 1996, developing over $100 million in residential, commercial and industrial projects. J.L. Gray Homes was involved in numerous subdivisions and in one case was designated the fastest selling subdivision in the area, outselling larger, more well-known national developers.
As James' company grew, so did his interest in philosophy and world religions. His wife Gopi encouraged him to explore his academic interests, and as he continued his studies he noticed a shift in his ideas about home building. "I found that I was becoming more and more interested in the subtle but important natural forces that are always at work when building a home," says James. "I became all too aware of the moonrises and sunsets and the flora and fauna that were present at each new potential site." From these initial meditations his Santa Lucia Development and Adobes del Bosque were created.
In this new venture James was able to integrate his philosophies with his home building. With adobe construction, the position of the house in relation to the sun's rising and setting is imperative. Since the adobe bricks hold heat and cold, it is important to position the home in such a way that there is shade during summer's hottest days and warmth in winter's cold. Adobe construction goes back to the indigenous Pueblo people of this state who built upon these considerations as well as making sure that the vegetation native to the area remained as undisturbed as possible. James considers this with each project he builds, allowing as much of the surrounding desert to flourish as possible, as well as identifying spots of high energy throughout the property, which gives peace and power to the building site.
James' first adobe village, Placita Santa Lucia, was started in 1995 as a 14-home development near the Tucson Racquet Club. This development included homes from 1,650 square feet to 2,700 square feet, selling out almost immediately. The second, Adobe Pueblito, an 18-home development in a mesquite forest in the Old Fort Lowell Historic District, was started in 1998 as the official new company, Adobes del Bosque, emerged.
Dos Adobes was James' next large undertaking-two grand adobes in the Coronado Foothills Estates. His successful projects kept popping up-first an incredible custom home near Sabino Canyon with the Sabino Creek running through the middle of the property, and his current project, Adobes de la Vista, with homes ranging from $650,000 to $1,000,000 at Skyline and Campbell. One of his long-term goals is to begin more affordable city infill projects and perhaps become involved with downtown Tucson redevelopment if the right proposal presents itself.
His son, Jameson Leon Gray, is now part of the family business. Before joining his father, however, Jameson lived in Portland, Oregon working for a Japanese trading company and then moved to Tokyo for a year, where he worked in the fashion business. He then moved to New York City to become a full-time stockbroker and part-time fit model. Today he is a licensed real estate agent as well as working with his father managing adobe home construction.
Through his career as a builder James has taken on many challenges in both the commercial and residential arenas. With his most recent undertaking, Adobes del Bosque, he is faced with the continual personal and professional challenges that always come when attempting to work in harmony with the land. James' ultimate goal is to be allowed to develop homes with character and lifestyle that are indicative of the romance he has experienced living behind the courtyard walls of this great city.