James Gray's houses speak to Tucson style,
and local buyers are begging for more – Written by Claudia Franklin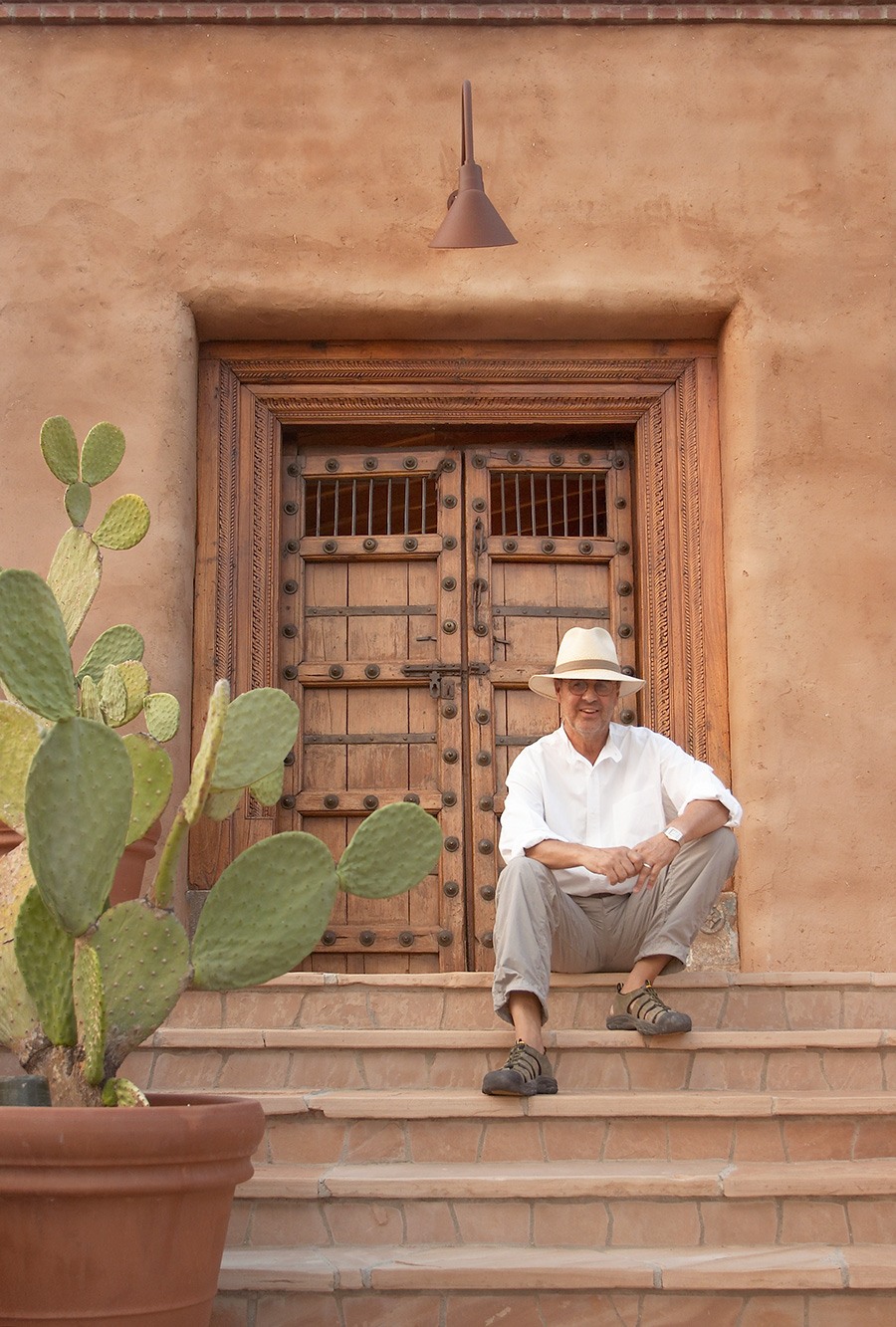 James Leon Gray builds mud houses with souls. "Without a doubt these houses have a soul," said Gray, owner of Adobes del Bosque LLC and Pima County's leading adobe builder. "I don't know if it's the comfort of Mother Earth or the mass, there's something about living in an adobe that's comforting."
And addicting. "If you've ever lived in one, you're in big trouble," he added.
Gray should know. Ten years into his second life as a crafter of hand-built homes, Gray, 58, and his wife and mother-in-law live in an adobe home that he built near North Campbell Avenue and East Skyline Drive. It's the second time in a decade that Gray and his wife have moved into one of his own projects.
Almost next door, his partly-built Adobes de la Vista development of seven mud-brick homes is already sold out, at prices ranging from $800,000 to $1.2 million.
He's using his house as the model home for a new batch of million-dollar residences he is preparing to build in Honeybee Ridge on the Northwest Side. But he's really excited about another project of 26 relatively affordable homes – ranging in price from $200,000 to $400,000 – that will preserve 400 of the 500 acres of open space near Dove Mountain. And about a Mexican-style village he will be building as a joint venture in the Menlo Park neighborhood on Tucson's West Side. Grading work has begun on the Northwest Side site near Dove Mountain; the Menlo Park project is scheduled to break ground in early 2005.
Gray's adobe homes "are like gold," said Todd Huff, associate broker with Richard H. Huff Realty. "His stuff sells out quickly. It just looks like Tucson. … People just love it."
There's a lot more to Adobes del Bosque's success than the building material.
Gray's best houses are exactly what living in Arizona is supposed to be about – rooms that flow outdoors onto patios, sheltered corners to enjoy on windy days, mud walls and columned overhangs that give the visitor the instant impression that there's something special behind the old wooden gates. The gates, by the way, undoubtedly are real antiques that Gray imported from Mexico, India or Morocco.
His own home features a couple of hundred-year-old carved archways from India. They decided to keep the house partway through construction, because the view to the surrounding hillsides and wash reminded his wife, Gopi Merchant-Gray, of her childhood in the Himalayas. Over in Adobes de la Vista, Gray paved what would have been an awkward, wasted space to the side of one of the smaller houses, surrounded it by a curvy mud wall, and equipped it with a built-in bench and a fireplace. That space was transformed into a cozy spot to sit at night and gaze at the city lights.
But you might also say that ancient adobe – mud brick – is one of the materials of the moment. Home buyers and builders are looking for alternatives to the conventional wood-framed house, which, in Arizona, frequently winds up with a faux-adobe finish. Builders work with adobe, rammed earth, straw bales, and other desert-friendly materials.
Tom Wuelpern, president of Rammed Earth Development Inc. said his company gets steady commissions for a half-dozen adobe homes a year. "The growth has been in the fact that there are numerous alternative systems recently, and those companies are busy, too."
Oden Construction has built 60 adobe homes since 1985, according to owner Randy Oden. The company wins awards for preserving old adobes, too. But Oden says that until Gray came along, he built only individual custom homes. "Jim has been instrumental in actually building complete subdivisions, neighborhoods, out of the material," Oden said.
An adobe house may be in your future – or maybe not. Adobe, Gray freely acknowledges, is not for everyone. Here's the nitty gritty on the Old Pueblo's oldest building material.
"Adobe's the material traditionally, even prehistorically, used in the Southwest," Oden said. Rammed Earth's Web site defines adobe as "a sun-dried earth brick that is the traditional building material found through the Southwestern United States, as well as in Mexico, North Africa and other arid regions around the world."
It can be fired in a kiln, but most of today's adobe is not. It is reinforced with concrete. Ready-made bricks come in a standard size, 16 inches wide, from various manufacturers, including a couple in Tucson. It is usually left in its natural state – sort of a pinky taupe in Tucson – but you can plaster over the surface, preferably with mud plaster, for a smoother, but still rustic finish.
The great thing about those 16-inch bricks is that, once they become 16-inch thick walls, they provide remarkably good insulation. If an adobe house is properly oriented, which is a big if, you will spend a lot less money heating and cooling your house. You can even get away with a smaller air conditioner.
Adobes are particularly good in the normal Tucson combination of blazing days and cool nights. If you open the house in the evenings and close it back up in the early morning, you will be comfortable and environmentally sound.
Modern adobe is seriously low-maintenance. As Old Pueblo Adobe Co.'s Web site notes: " Plaster, paint or sealers are unnecessary. Stabilized adobe is moisture resistant, termite proof, fireproof …"
Then there's that special adobe quality. The air in adobe homes, even the newest ones, breathes with the same cool serenity you find in the great medieval stone churches. Gray said it's a quality not easily understood. Prospective buyers "don't really get it until they walk inside," he said. "And, once you feel it, if you are offered it, you gotta have it."
Not everyone does get it, of course – or wants to. Adobe construction is very expensive. Construction costs of $150 a square foot for wood-frame houses are standard in the Foothills. Most adobe builders figure their costs at $180-$230 a square foot, even as high as $400 a square foot. The seven houses in Adobes de la Vista sold for between $325-$350 a square foot, including the land.
Oden cautioned that these price comparisons can be deceptive. Most adobe houses include a lot of high-quality, high-cost features such as custom doors, aluminum-clad wood windows, tile floors, top-of-the-line appliances. "People think it's the wall system that's expensive. It's the whole package that makes them cost what they cost," Oden said.
Adobe is harder to engineer than wood-frame construction, which limits the use of big windows and limits most adobe homes to one story. Because the adobe brick is stubbornly brick – inside and out – it's not a good choice for someone who wants to change a house's look every couple of years. For a number of reasons, families with children rarely buy Gray's homes.
Finally, there's the fact that adobe sheds, even though brick makers advertise shed-free adobe. You might call it the grit in the nitty gritty. While an adobe house can easily last several lifetimes, there is sort of a constant dust that visibly falls when you run a hand across the walls. It drives some people nuts.
Others simply enjoy the constant change. "Adobe is a work in progress – always," said Gray. He should know, after just 18 months in the house he now lives in, he is adding a plastered dining room, a shed that appears to be evolving into a new home office, and an exercise room. "It's just too much fun to play with."