Something Old… Something New
Excerpt from: Tucson Lifestyle, home & garden, Summer/2001 – Written by Claudia Franklin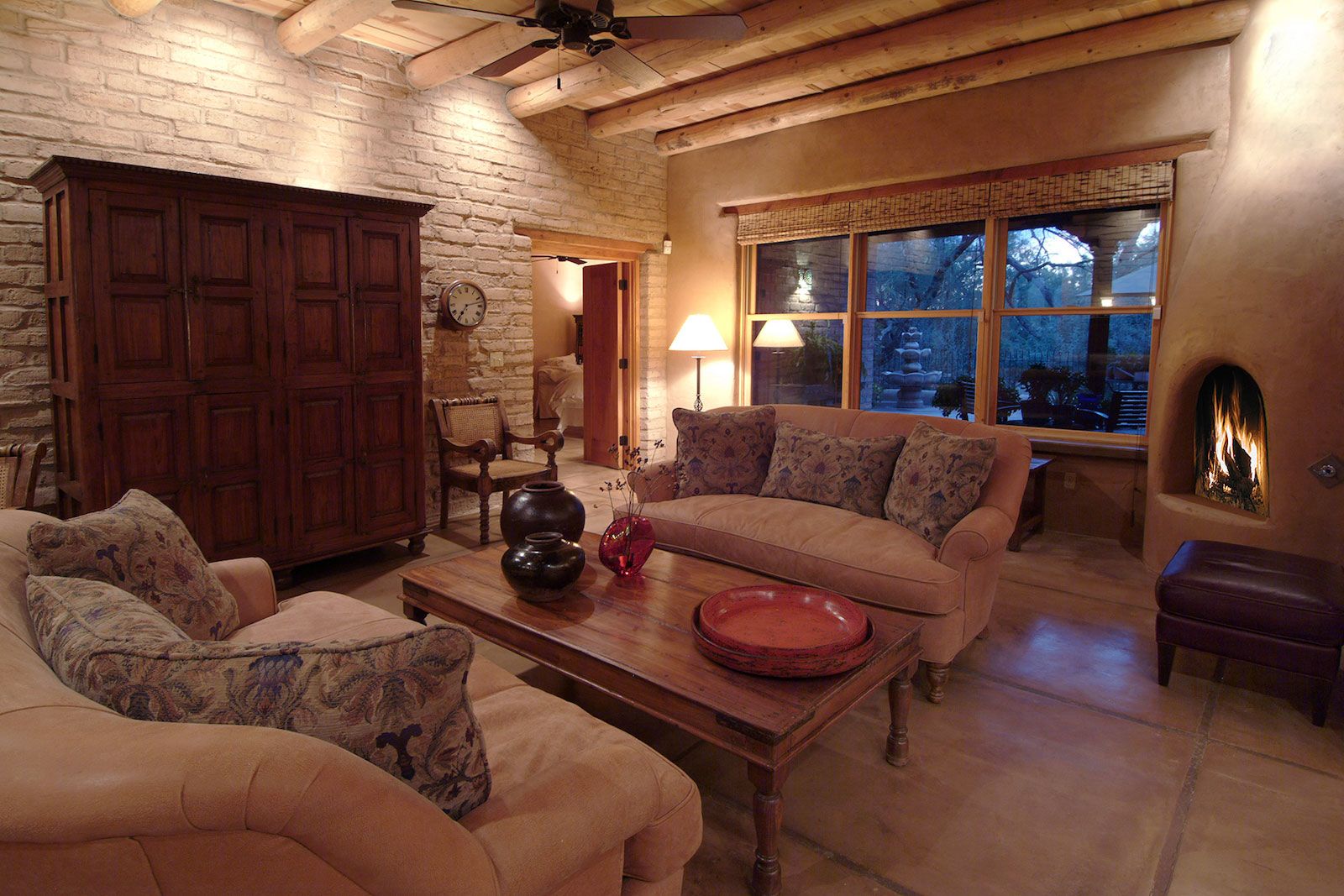 It was one of those bright winter days in Tucson when I met interior designer Tyler Atkinson at the entrance to a small, new enclave of homes in the Fort Lowell Historic District to see a project she had just completed for her client, Greg Rolling, M.D., an anesthesiologist. I was led down a couple of rambling streets, past adobe walls, old twisted mesquite trees, windows with rusted, antique grill work, and weathered wooden doors.
You wouldn't guess that these were new houses. The row of casas seemed so much like an old Mexican adobe village. And there was a shade-enveloped stillness about it even though traffic was just a short distance away. We arrived at the site and passed through double wooden doors to a stuccoed adobe house the color of toffee cream. The façade is simple except for decorative trim above the windows and doors, revealing a hint of the Greek revival period, typical of a Sonoran-style house found in Tucson's barrios.
Inside, everything seems as though it has been in place forever. The high ceilings, thick walls and concrete floors offer a comforting feeling of solidity
The interior layout reflects the Sonoran design, including a zaguan, the traditional center hall that leads to the rear courtyard and provides a central axis to the layout. Off the hallway are bedrooms, a kitchen and a living room on either side. A dining room area flanks the kitchen and a master bedroom leads off of it.
With the architecture and character of the house taking such a starring role, the collaboration of the right interior designer became paramount. ~ Tyler, in fact, was granted almost carte blanche by the owner, who wanted the furnishings to echo the house's character. "Jim Gray, the developer and general contractor of Adobes del Bosque, recommended me to Dr. Rolling because he knew that I have a feeling for Tucson and a sense of place. I have lived here most of my life," she says. Tyler knew the minute she saw the house that she wanted to complement the style of the architecture. "You can feel it when you walk in that someone has taken the time and energy to create this space by hand … through the adobe walls, the floors, the pine ceilings and vigas. "The house has a marvelous, joyful spirit that I wanted to capture, but at the same time because Greg is a single parent with two sons, I wanted there to be a masculine feeling to the rooms." She also had the task of accommodating some of Greg's furnishings in the design. "He said to me,'Please don't be the kind of decorator who comes in and tells me to get rid of everything."' Tyler looked to the silver screen for inspiration. She remembered seeing Out of Africa with its mix of formal and tribal furnishings, and realized how both could work together to create what her client wanted.
So she began mixing different styles together. Greg's formal furniture was interwoven with Indian rugs, African baskets and fabrics, Peruvian mirrors, and Mexican and Indonesian furniture. Walls were Plastered with an integrated, earth-like color. "It's a color that I had a hard time picking' explains Tyler. "I wanted one that complemented everything and didn't stand out too much … a hue with a soft beauty but with a masculine feel to it. Jim Gray had on a shirt one day that was perfect and we took it to Home Depot and had it scanned to match the paint."
In the zaguan there is a certain grandeur and glitter to the mix: the ornate, late 1 9th-century French chain and 100-year-old grandfather clock from Greg's col. lection of furnishings; elegant Mexican chandeliers; air antique Chinese painting, and Oriental rugs. But th~ earth colors and textures of the concrete floor and wood ceilings exude a calm, natural framework that brings the whole look down to earth.
Tyler's approach was more intimate in the living room. A leather, over-sized club chair and a custom~ made, hand-pounded coffee table are contrasted with the opulence of very formal matching mirrors, aa over-stuffed chenille sofa and an antique tapestry. A fireplace molding with sensuous curves adds to the impression that the house has grown naturally out of the environment. A striking antique East Indian wedding shirt and Remington prints punctuate the shimmering golden walls.
At the heart of the house is an outdoor sala (Spanish for living room). Enclosed on three sides, all the comforts of indoors are re-created in this covered nook that overlooks the garden and small pool. There is an exotic flavor to the setting with a cross-fertilization of two cultures, Moorish and African.
In creating the style, Tyler combined the rough and refined, the way the Moroccans do things. The look is both exotic and indulgent, yet at the same time has a kind of primitive feel, such as the combination of a rustic, hand-carved teak bench piled with luxurious pillows covered in African Kubba cloth. Two Mexican wormwood chairs are placed on intricately designed Moroccan peasant rugs on the scored concrete floor.
"The sala concept is something that I think adds to our lifestyle so much here in Tucson' explains Tyler. "When I first moved here from Santa Fe I designed one for myself and put all the furnishings in it that you don't expect to see outdoors, like rugs and wood furniture. Jim Gray saw what I had done and loved the concept. He has included it in a lot of his designs ever since."
It seems that once again, in digging deep into our roots we discover how appropriate it is to look at our past. We learn that thick adobe walls act as passive solar heaters by absorbing the heat ofthe day and releasing it at night. That the zaguan design was a pre-air conditioning device allowing air to circulate through the house. We see that creating by hand is an art, and we learn that a house can respond to the environment in which it is built.